The Brazilian-German Collaborative Research Initiative on Smart Connected Manufacturing (BRAGECRIM/CRI-SCMfg) associates more than 30 Brazilian and German universities, research institutes and industrial partners around a research network on the strategic topic of manufacturing technology. The main goal of the cooperation is the sustainable strengthening of the industrial sector in both countries through basic and applied research and exchange of knowledge and researchers.
Motivation
The fast growing competition originated from countries with low-cost work forces is pushing enterprises worldwide under a considerable innovation pressure. This fact is also compelling industries to improve the efficiency of their production processes, e.g. by increasing the automation level or by a better management of quality, innovation and information. A global way of thinking is required for the product development and the production planning, taking into account the complete production chain: from energy provision to raw material exploration, product development, machining, distribution, until to final use, repair and recycling. Therefore, manufacturing technology is playing even more an essential role for a sustainable development of many countries.
Brazil and Germany have collected an extended list of successful cooperation initiatives in business, science, technology and education. Many German companies have production plants in Brazil and many Brazilian products are part of the daily life in Germany. The German influence is perceived positively in the Brazilian industry and universities, as many engineers, researchers and professors have accomplished their studies in Germany. Through these traditional and in part personal relationships, several partnerships have been created in the last years between Brazilian and German universities, especially in the area of manufacturing technology.
However, there are some deficits that obstruct an efficient cooperation between both countries in the view of research and education. Up to the creation of the BRAGECRIM/CRI-SCMfg network, many of the cooperation initiatives were impelled only by isolated initiatives. Middle and long-term objectives of such initiatives, which could make a better usage of each country's potentials and also overcome the current technological deficits, were still not precisely defined. A more efficient and balanced bilateral cooperation could be achieved due to the establishment of adequate research framework programs.
Goals
Considering the strategic interests from Brazil and Germany in manufacturing technologies, the long-term goal within this collaborative research program was defined to be:
To enforce the competitiveness of both countries in the global market:
By concentrating on innovation and extending it along the whole value added chain
By the fast transfer of knowledge and results in short time to the industry
By building focused project teams with complementary competences along the whole value added chain
By exchanging experiences through the interchange of scientists
Framework
To promote this sustainable development, collaborative research projects have to be created bringing together most of the technologies involved within the product life cycle. These research projects are coordinated by an excellent research group in both countries, which connect to other research groups in each country. Thus, knowledge, technology and cooperation experience will be spread out into both countries, helping the development of emerging universities and industrial regions. In order to synchronize the research networks and to integrate the different technologies in a holistic concept, the research group coordinators of each project take part in a global network to analyse the whole production chain and product life cycle.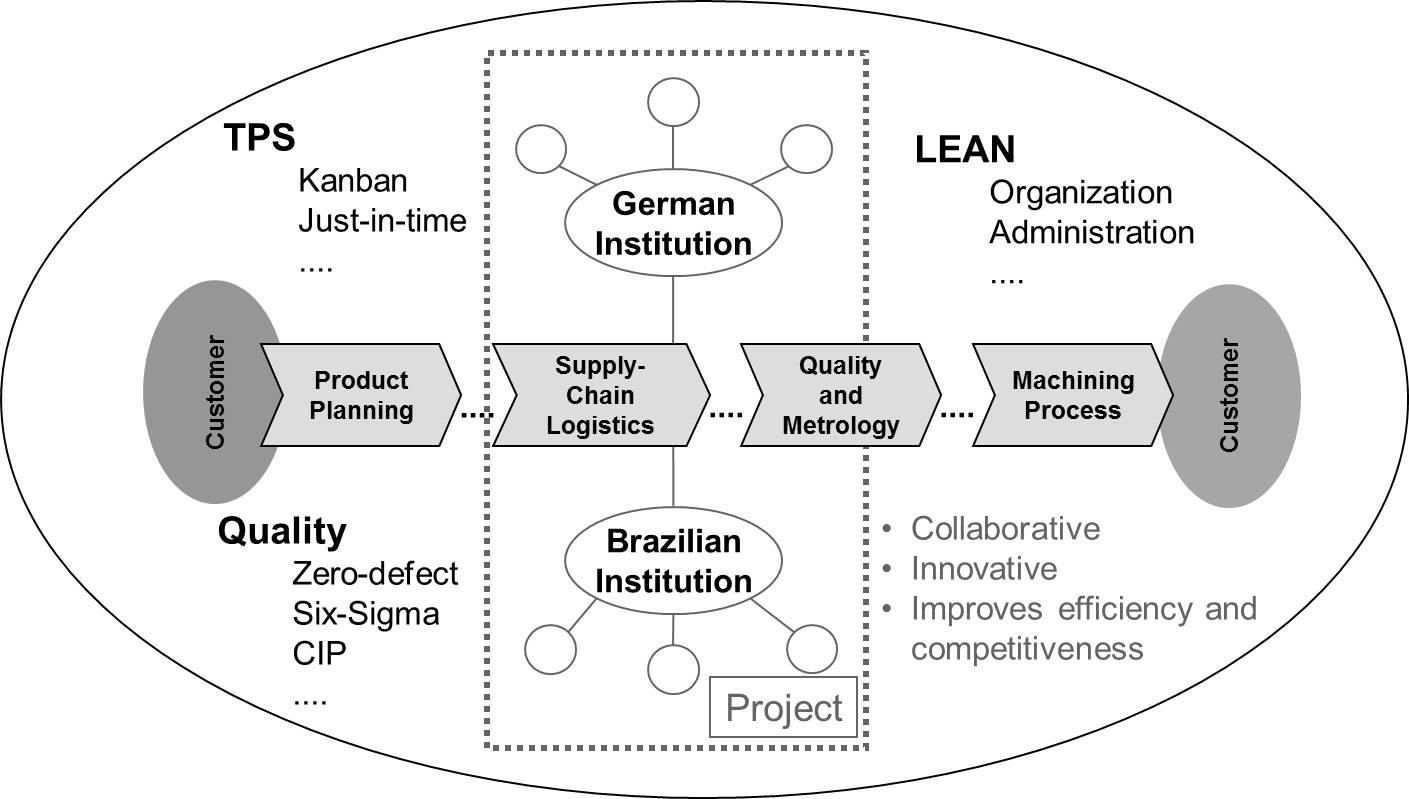 Project ideas that are proposed to BRAGECRIM/CRI-SCMfg have to develop knowledge and technological solutions to provide innovation, which improves the efficiency and competitiveness in different areas of the whole product life cycle (from the customer to the customer).
The proposed collaborative research initiative combines strategic technological research activities with an international educational program and a direct support to the industry. These projects focus on very innovative strategic research topics, which deal with the demands and deficits in both countries. In middle terms, the developed technologies will be transferred to industry. Such a collaborative research network promotes the knowledge exchange between both countries in a research field (e.g. quality management, precision manufacturing etc.), involving some specific research projects with high importance for both countries. These projects are executed including international doctoral, master and bachelor studies (student exchange). A central coordination manages the whole network and an open knowledge forum, stimulating the technology and knowledge transfer to the society. By organising open international (once a year) and national (twice a year) workshops as well as by student and scientist exchange, this program provides a multiplication effect to spread out the developed high-end technologies and knowledge.